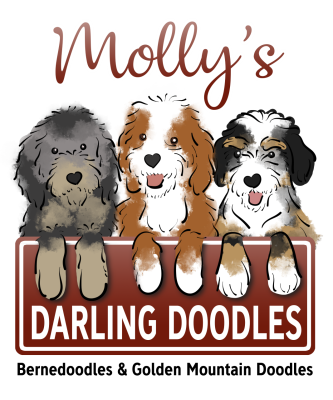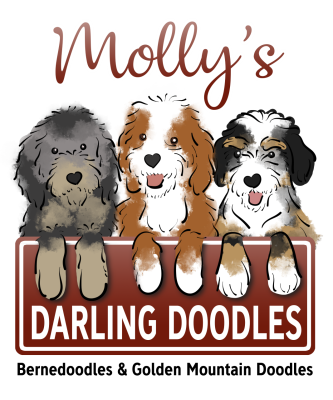 Visitor Policy​
For the safety of our family as well as the safety and health of our puppies, we do not allow "puppy shoppers" to come to our home.  If we have puppies available after 8 weeks of age and you are interested in adding one to your family, we can set up an appointment for you to come meet the puppy/puppies at that time.  I'm sorry for any inconvenience this may cause but many are stopping at other breeders homes, pet stores, or other places along the way and that can pose a risk to my puppies and the puppies that already have loving homes waiting for them.   

  This has been a difficult decision for me to make because I have always enjoyed having families come play with the puppies in the past. But, truly, in the short time that a family sees the puppies they really don't get to see their full personality.  I am with my puppies every day and can better observe their personalities as they grow.  I will assist in the picking process by pictures/videos and personality traits that you may or may not be looking for in a puppy, I have been successfully assisting families with this for years as many have lived too far to come in person to pick out their puppy.

Parvo can  kill an entire litter in a matter of 24 hours or less.  Since most of my puppies are spoken for before they are even old enough to have one vaccine, I am not only protecting your puppy but the puppies of so many other families!!  Parvo can be carried in on shoes, clothing and hands of people or on the feet of other animals.  It lives in the ground (grass/concrete/dirt,etc) for a very long time....sometimes up to a year!    The end result of a Parvo infected litter is usually death of many of the puppies.   I have never been hit by Parvo at my house in the past and am doing everything in my power to avoid getting it....Parvo can be very difficult to get rid of!!    I have several friends who have had to deal with Parvo in their homes/kennels and have lost a lot of puppies as a result.  This is not only devastating to the families waiting for their puppies, but imagine the devastation of the breeder and the mom of the puppies who must watch them die.  There are more illnesses then just Parvo that can make puppies sick, but Parvo is my biggest concern.  
​​​​
I am taking precautions as best I can to keep your puppy safe and healthy!  My Vets, Dr. "Jack" Laurie Jackowiak and Dr. Joann Greenfield do a health exam on each one of my puppies prior to them going to their new homes, often coming to my home to do so.  They take great care of my puppies and dogs!
For more information about my Vets and  the wonderful staff at Alpena Veterinary Clinic click on the link below!!
Alpena Veterinary Clinic


I am providing a link to some information on Parvo so that you can better understand it.  Also, there is a ton of information about it on the internet if you google it! 


Parvovirus

Please also read our
SALES CONTRACT
page


​